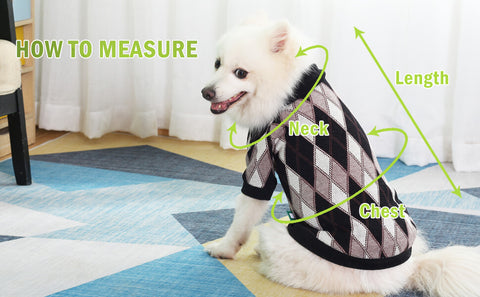 Size and material: chest circumference 9.1"-15.7", chest length 12.2"-22.4". Made of soft and breathable cotton, comfortable to the touch. Completely hand-made, no extra threads, making it more comfortable for dogs to wear.
Unique design: The clothes adopt one-piece style, no extra buttons, beautiful and fashionable, easy to put on and take off, and will not affect the dog's rest due to hard objects. Four-leg design, elastic waist, unique stripe design, not easy to loosen.
Suitable for more: suitable for more occasions and more different kinds of dogs. It can keep your pet warm when it stays in the air-conditioned room and help relieve anxiety. This dress is suitable for many dogs, such as poodles, bulldogs, Yorkshire terriers, chihuahuas, maltese dogs, cocker spaniels, teddies, pomeranians and many other medium and large dogs.
Wearing occasion: suitable for sleeping, daily wear, taking pictures, etc.
Commitment: Please confirm your pet size or contact us for advice before buying. If there is any quality problem or the size is not suitable, you can contact our Facebook, we are willing to replace it or give a full refund.